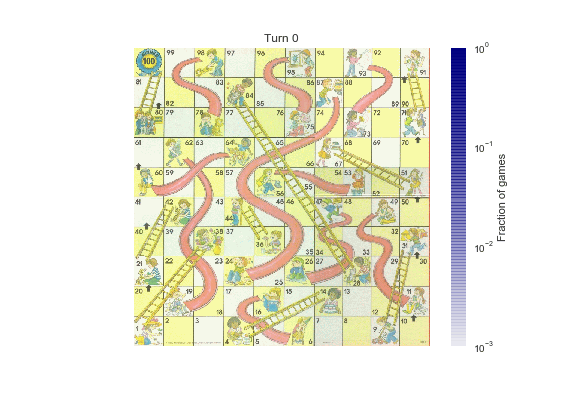 This weekend I found myself in a particularly drawn-out game of Chutes and Ladders with my four-year-old. If you've not had the pleasure of playing it, Chutes and Ladders (also sometimes known as Snakes and Ladders) is a classic kids board game wherein players roll a six-sided die to advance forward through 100 squares, using "ladders" to jump ahead, and avoiding "chutes" that send you backward. It's basically a glorified random walk with visual aids to help you build a narrative. Thrilling. But she's having fun practicing counting, learning to win and lose gracefully, and developing the requisite skills to be a passionate sports fan, so I play along.
On the approximately twenty third game of the morning, as we found ourselves in a near endless cycle of climbing ladders and sliding down chutes, never quite reaching that final square to end the game, I started wondering how much longer the game could last: what is the expected length of a game? How heavy are the tails of the game length distribution? How succinctly could I answer those questions in Python? And then, at some point, it clicked: Chutes and Ladders is memoryless — the effect of a roll depends only on where you are, not where you've been — and so it can be modeled as a Markov process! By the time we (finally) hit square 100, I basically had this blog post written, at least in my head.
When I tweeted about this, people pointed me to a number of similar treatments of Chutes & Ladders, so I'm under no illusion that this idea is original. Think of this as a blog post version of a dad joke: my primary goal is not originality, but self-entertainment, and if anyone else finds it entertaining that's just an added bonus.